Who is behind gast&hof?
A guesthouse
(«gast»)
and farm
(«hof»)
- operated by Ursula Knuchel Streit, teacher for home economics, and Reto Streit, farmer and social educator. As owner and proprietor, Ursula and Reto run the entire business in a co-management partnership.
Working and contributing in our business:
Till Häberli (agriculture) and Stella Sala (guesthouse)
together with a 50% workload
Lisa Habegger (guesthouse)
20% workload
Marcus Bräuer (agriculture)
20% workload
Olha Havriushenko (guesthouse)
10% workload
Celine Lüthi *
60% workload




Further working irregularly and on call with us, in the guesthouse or in agriculture:
Annalise und Hansueli Streit-Brunner
Severin Streit and Vera Streit
Hans-Ruedi Mäder
Cristian and Barbara Hauser-Knuchel
Dominic Hauser
Silvan Hauser
Lis Knuchel Ruef
Fabian Kaspar and Jolanda Schär
Mathias and Daniela Zürcher
Aline Kaufmann
Tom Lüscher
Jacqueline Bräuer
Anja Jäggi
Fabienne Curty
Thomas von Sauberzweig
Pullets loading helpers: Colette, Urs, Barbara, Peter, Rahel, Ueli, Johnny und Milena
* Our current trainee is called Celine Lüthi and will be working with us at the gast&hof from 1 May to 31 October 2023 on a 60% basis. She was a chef at the hospital in Belp, is a prospective farmer and runs the food truck LandWIRT (www.landwirt-gmbh.ch) with her partner - we are very much looking forward to her work and hope that we can introduce her to the versatile and practical aspects of the profession of a farmer.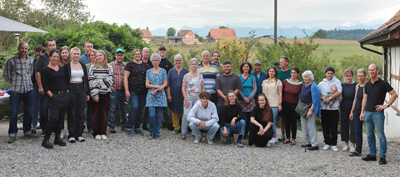 (Click to enlarge)
Impressions gast&hof team event 2022