Silkworm tours 2020
Visit our silkworm rearing and learn more about how the leaf of the mulberry tree is made into silk thread.
In addition, we will take you on a short tour through our entire farm and introduce you to the farm with our animal husbandry, the crop production and the guesthouse.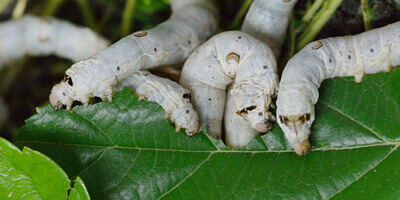 The three planned rearing of silkworms will take place in 2019 between the beginning of June and the end of September.
The caterpillars can be visited during a booked silkworm tour by you and your group during the following dates:
05th to 24th of June 2019
July 17 to August 02, 2019
10th to 27th of September 2019
We are pleased to accept your reservation - please
contact us
so that we can discuss your desired event together with you.
Number of persons: From 5 persons
Price: Fr. 10.- per person
Duration: approx. 1.5 to 2 hours (silkworm rearing and farm tour)